THE BOOKS
ABOUT THE BOOKS
---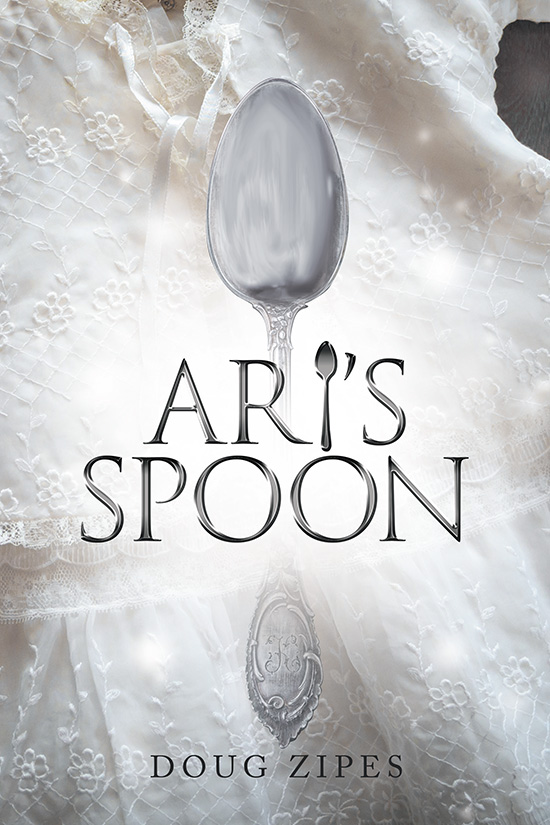 Ari's Spoon
Young surgeon Gabe Goerner and his wife, Cassie, are thrilled when their daughter, Zoey, is born. She is a seven-pound, six-ounce re-creation of her mother. When she is three months old, her parents schedule her baptism at a Catholic Church in Indianapolis. The attendees include his parents who bring the family's cedar chest, his grandfather's most prized possession from Poland, that houses Gabe's baptismal gown. Although it is a family heirloom, its origins are unknown.
As Gabe's family enters the church for his daughter's baptism, her gown triggers the security metal detector. After Gabe discovers the cause is an engraved silver spoon sewn into the double-layered hem of the tiny gown, the mysterious discovery soon transports him through a cascade of unforgettable events that lead him from contemporary Indianapolis to the Warsaw ghetto during World War II, from underground bunkers to operating rooms, and from the safety of home to the Treblinka death camp. What he finds on his mission will forever transform his life.
READ AN EXCERPT ORDER A COPY NOW!
---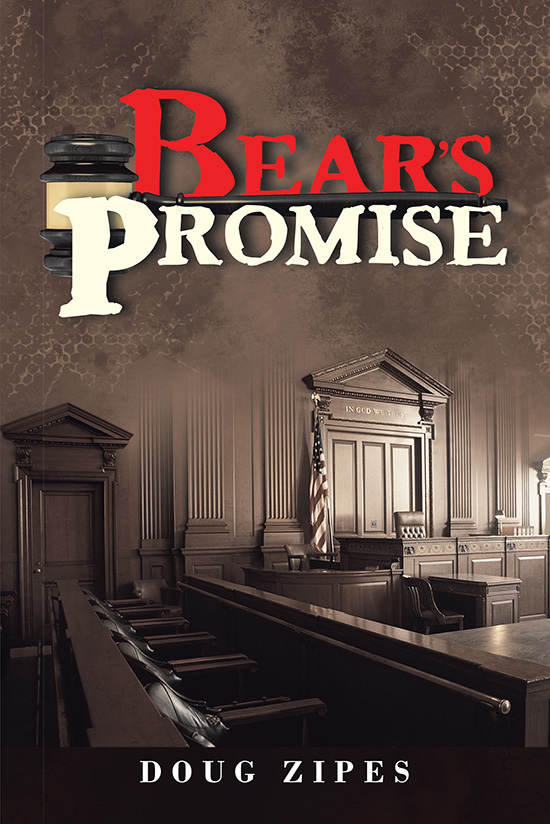 Bear's Promise
Melanie Simpson is desperate when she calls 911 for help controlling her psychotic husband, Jared. When a dangerous and brutal police lieutenant responds, he shoots Jared with his Electric Gun, initiating cardiac arrest. After their son seeks revenge, the police lieutenant kills him as well. A shocked and grieving Melanie asks family for help.
Now it is up to her brother, Jason "Bear" Judge, an ex-FBI agent turned trial attorney, to vindicate Melanie. After he prosecutes Lieutenant Vincenzo Sparafucile for police brutality and the unscrupulous CEO of the electric gun company for failing to warn that his gun could kill, Bear narrowly escapes multiple attempts on his life. As the trial begins, Bear's legal clash with the police and the gun company becomes threatened when his dark history with the FBI surfaces and creates a riveting courtroom drama that culminates in a life-and-death battle between two determined men.
In this legal thriller, justice confronts greed in a compelling power struggle as a trial attorney seeks retribution for the murders of his brother-in-law and nephew by a ruthless police officer and a company that values profit over life.
READ AN EXCERPT ORDER A COPY NOW!
---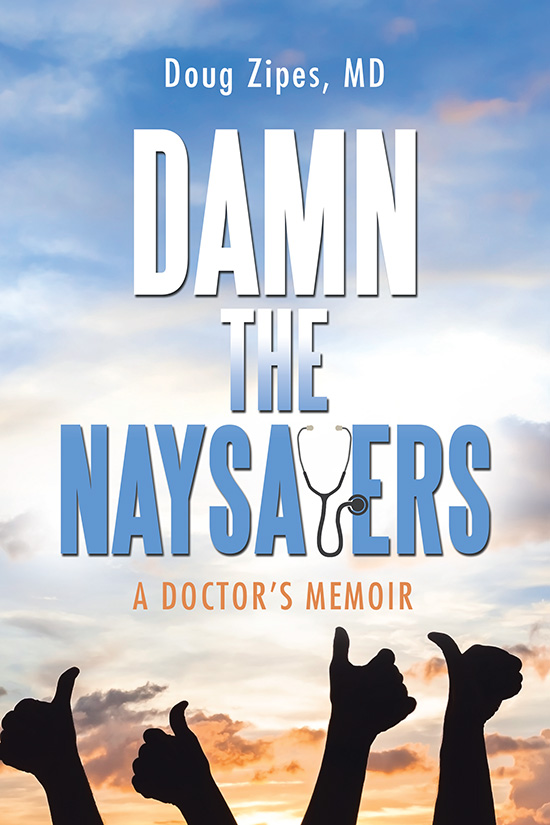 Damn the Naysayers: A Doctor's Memoir
No, you can't. Those three words have shaped much of Dr. Doug Zipes's journey through life and have always challenged him to come to terms with who he is, where he wants to go, and what he wants to be. Dr. Zipes is living proof that sometimes you have to say damn the naysayers and do it anyway.
In a fascinating retelling of his life, Dr. Zipes details his diverse experiences that led him from small-town life where he aspired to become a doctor, from medical school lectures, to lecturing refuseniks in the old USSR and entanglements with the KGB, from lawsuits against major corporations to a house call in Saudi Arabia, and finally from a flirt with death to the complicated process of writing.As he leads others through his whirlwind life, his experiences offer gentle encouragement to anyone struggling to defy the odds and find his/her own successful path by refusing to take no for an answer.
Damn the Naysayers shares the intimate true story of how one man made a difference—not just in medicine but in the lives of many people around the world.
READ AN EXCERPT ORDER A COPY NOW!
---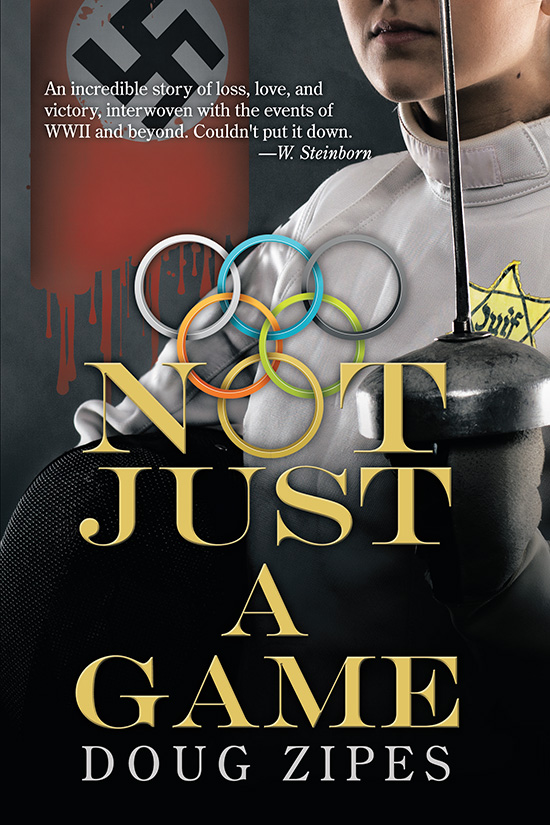 Not Just a Game
It is 1936 as track star Dietrich Becker trains for the Berlin Olympics. Supported by his wife and an unknown benefactor, Dietrich is hiding a dangerous secret: he is Jewish. But when he unexpectedly loses to the legendary Jesse Owens, a humiliated Dietrich crumbles under overwhelming pressure and makes a decision that changes everything.
Thirty-six years later, Dietrich's son, Adam, assistant head of the 1972 Israeli Olympic team, travels to Munich, where eleven Israeli athletes including one of his friends, fencing coach Levi Frankel, are murdered by Islamic terrorists. Eventually Adam's daughter, Kirsten, is taught to fence by Levi's widow and sets her sights on the 2016 Olympics. When she travels to Rio with the Israeli team just as Nazism is reborn, Kirsten and a French fencer become intrigued by rumors that Hitler fled WWII to South America. After visiting Bariloche, Argentina to investigate, they explore Hitler's house and find the priceless Amber Room. As her journey leads her back to the Olympics, Kirsten soon discovers she is fighting not just to win gold but also for her life.
Not Just a Game is the riveting story of three generations of Olympic athletes as they attempt to survive monumental challenges in the shadow of Hitler and during a rebirth of Nazism.
READ AN EXCERPT ORDER A COPY NOW!
---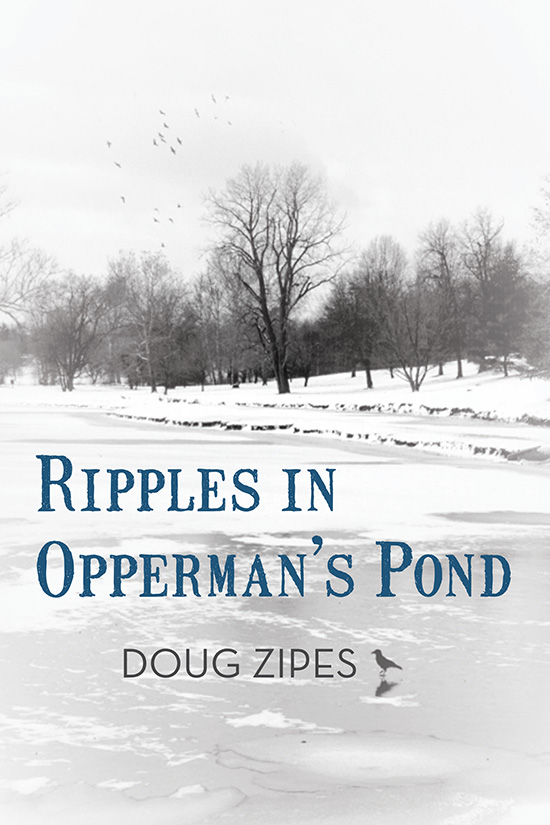 Ripples in Opperman's Pond
Identical twins Dorian and Daniel Sloane grow up inseparable, sharing the same tubes of toothpaste as children and their lives as adults. Loyalty proven many times, they have been saving each other since the day Dorian rescued Daniel from drowning in Opperman's Pond. Now, with Dorian as head of a multinational pharmaceutical company and Daniel as an innovative cardiologist volunteering in Africa, the brothers come together once again. A devastating midair collision on the basketball court during a Celtics/Pacers game sets falling dominoes in motion
After NBA legend Randy Jackson sustains a career-changing ankle injury, Daniel and Dorian partner together to try and heal him. A brilliant chemist has created a miracle arthritis drug that they hope will cure the star and also save Dorian's pharmaceutical company teetering on the verge of bankruptcy. Celebrations ensue when the Pacers' star returns to full glory—and then tragedy suddenly strikes during a casual pickup game, threatening to destroy Daniel's career as he faces a devastating malpractice suit, the possible loss of his medical license, and even a voodoo curse.
In this high-stakes thriller set in the world of big-money medicine, a chain of unanticipated events culminates in a life-or-death decision two brothers never thought they would have to make.
READ AN EXCERPT ORDER A COPY NOW!
---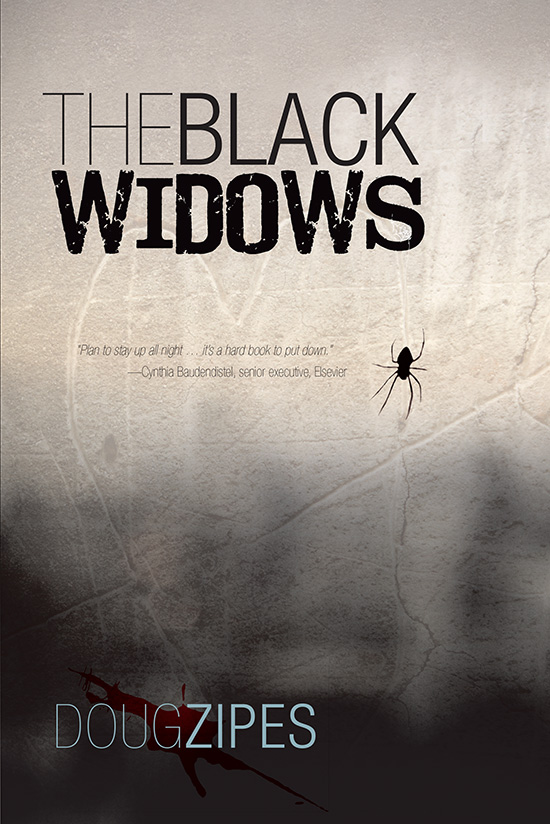 The Black Widows
In Chappaqua, New York, two elderly widows who look like grandmothers with nothing more exciting on their daily agendas than mopping the kitchen floor, are not who they seem. Originally from Afghanistan and Palestine, the widows are hiding a secret of monumental proportions.
From a back room in a small secondhand bookstore attached to their house, Mrs. Abramowitz and Mrs. Silverman control the Black Widows, a worldwide terrorist organization created with a dual purpose—to destabilize the Western world and to wage a personal vendetta of their own. As soon as Zach Dayan—an NYPD detective and former Israeli policeman—takes the case, he faces a series of apparently random murders with identical wounds slashed in the victims' chests. Desperate for answers, he seeks help from his ex-lover and expert pathologist, Dr. Jayanti Joshi. After examining the hearts, Dr. Joshi quickly discovers the common thread of the murders. Unfortunately, the clue leads nowhere.
Zach's search for the murderer leads him to the hidden caves of an impenetrable ancient desert city, where he is soon swept into the heart of an evil plot. Only time will tell if he can save the Western world from another Holocaust.